SOLUTIONS
We wish to remain the first choice for many reputed Organizations.
Clearing & Forwarding Agents at all Major ports and ICD's in India.
Solutions we provide
Road Transportation
VISHWAS has Containerized Truck and Body Truck in Group. Making its repertoire of services available to clients across the country is the network of offices that VISHWAS has built, Crises- Crossing major cities, and ports .The offices are strategically located to deliver a prompt, speedy and relevant response to customers logistics needs.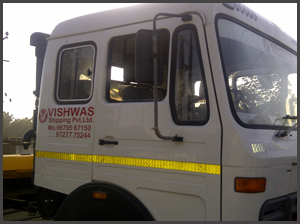 We are locally expertise and VISHWAS shares a warm and mutually beneficial relationship with its customers, offering personalized transport service right from pulling the containers from the lines yard till placing the container in their factory and reaching port to be gated in, in a timely and cost effective manner. We also provide local transportation service required to carry cargo from factory to CFS for Dock Stuffing.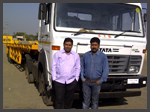 In today's volatile market, where survival is the need of the hour; the company has invested in training people who have the ability and knowledge to meet any demand and need of its customers. It offers tailor made solutions for its clients, ensuring their satisfaction in every sphere, be it service, deadlines or cost. These investments have translated into a phenomenal and assured reach for all its customers. Adding edge to its service quality is the technological superiority that VISHWAS has.

VISHWAS operations are fully computerized, resulting in error free document processing and scientific methods for cargo movement and management. All ultimately leading to a service standard that delivers the highest levels of customer satisfaction.

Warehousing & Distribution
VISHWAS has a warehouse space available in and around Kandla and its hinterland, the warehouses are equipped with the latest communication and automation facilities. Warehousing is an integral link in the logistics chain, and VISHWAS has rightly identified its importance.

Through a strategic alliance with an established and reliable warehouse operator, we now offer our clients a comprehensive warehousing solution.

The company offers warehousing support services for inbound and outbound logistics, thereby improving customer's inventory management, reducing their operating costs and improving cycle times. Operating a dedicated reserved warehouse space in near Kandla port, it serves a range of customers from different industries.

Today more and more companies have realized the competitive advantage they can gain by outsourcing the non-core activity of warehousing. In addition to the tangible financial benefits of allowing them more time to enjoy the facility of service. In fact, we are in process of adding to our existing transit warehousing capacity to cater to the growing demand.

Insurance
VISHWAS offer Marine Insurance service to our customers through reliable and well known service providers in India for both export and import . Due to our long term association with insurance companies, we enjoy excellent relations with them and through our associates.

VISHWAS can arrange marine insurance cover for your export/ import cargo and goods in transit at very competitive cost. Through such value added services, we offer all solutions under one roof to our customers, thus completing the missing links in the International logistics chain.
Other Customised Services