"BRINGING WORLD TO YOU - ONE STOP SHIPPING SERVICES"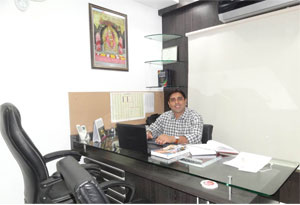 As CEO and founder of Vishwas Shipping Pvt Ltd (VSPL), I welcome you to VSPL website and would like to take this opportunity to share a few thoughts. I hope you find the information here relevant and useful to you.
The Shipping & Logistics industry is changing rapidly and becoming complex day by day across the globe. Clients increasingly want to see cost-effective, accurate results in no time.
At Vishwas Shipping Pvt Ltd as your business partner, you can sit back and relax safe in the knowledge that your logistic needs are in good hands.
During the last five years of development and transformation, the company has gained considerable expertise in the field of clearing, forwarding & logistic management and is capable of meeting the entire gamut of logistic needs of our clients.
We do not believe in boasting about ourselves in words much, rather we believe that it is our services because of which the company has shown a splendid growth over the years. Of course, we do acknowledge the support of our esteem clients who have shown trust in us. The company has been able to provide a wide range of services to its clients through its national and worldwide network.
I personally stand behind each of our project assigned to us and firmly committed to our client's success and our success will naturally follow. We provide cost-effective solution to meet every need of our client and update them at every stage of the move.
Our collaboration with world's various forwarders and logistic corporation has provided us with the competitive edge to surpass the client's expectations in providing quality as well as need based logistic services to ensure complete customers satisfaction.
With wholehearted sincerity, I promise you that VSPL will always strive to become a superior business partner. Our creative innovation and indomitable spirit will allow us to grow in successful partnership with our customers.
Last, but not least, your continuous support to VSPL will remain invaluable on our path to becoming the premier global logistics company most trusted by customers. If you have questions, comments, or requests about VSPL please feel free to contact me at vijay_meena@vishwasshipping.com.